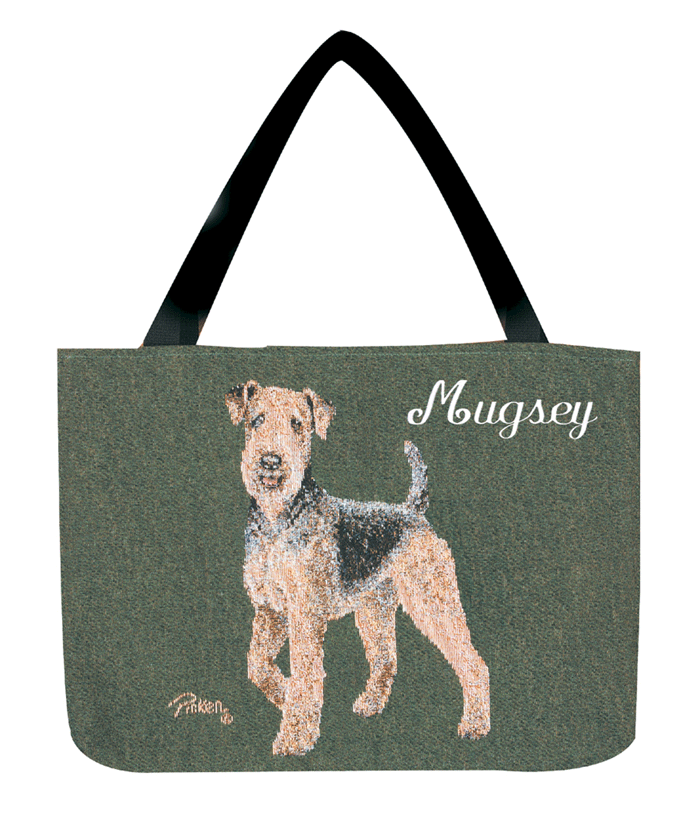 Airdale Personalized Tote Bag
|
Looking for a wonderful gift for a friend or yourself? The Airdale tote bag is something you can use all year around to show off your beautiful pet. It will last for years and years and show how much you adore your Airdale. It is very rooming and flexible which allows you to carry almost anything! The embroidery is beautiful and really shows off your pet! Make this tote bag you companion anywhere you go, just like your pet!
Made in USA!
About Airdales
The first Airedale dogs looked completely different from the Airedale dogs of today. Airedales were originally known as the Waterside and Bingley Terriers, descended from the now extinct black-and-tan type terrier. The Airedale Terrier breed is the largest of the terriers and stands square in appearance.
Free Personalization!
Personalize your Airdale tote bag with his name or breed. Please double check the spelling to make sure it is correct. You can use up to 12 characters for the tote bag personalization. Anything after that will be ignored, as it just won't fit...sorry! The personalization is done in script font. With every personalized tote bag, only the first letter of the name will be personalized. All other letters will be lower case. Because each of these wonderful tote bags are made to order, they cannot be returned or exchanged.
Measurements
Our Personalized Dog Tote Bag measures 17.5"x12.5". A great gift for dog lovers!
When Will You Receive Your Tote Bag?
Each tote bag is personalized as the orders come in. We do take our time on these, as we want them to be perfect! Because of this, please allow 5-10 business days before we ship. You will be notified once the order has been shipped, which takes 2-5 business days for delivery. Total time before delivery is 10 business days on average.
We are excited to personalize this for you!
---
Share this Product